Before selling your home to an "

Instant Offer"

company such as Opendoor, Redfin or Offerpad

STOP

and read this first!
WARNING: They will pay you less money for your home and it will cost you more money to do business with them.
Want Proof? Before you sell your home, make sure you request a SELLERS NET SHEET to find out the true cost of doing business with that company!
If you sell your home to an iBuyer like REDFIN, OPENDOOR, or OFFERPAD, your PROFIT will be THOUSANDS of dollars less and they'll tell you that its "for your convenience".

According to a study by Collateral Analytics Instant Offer Companies such as Opendoor, Redfin and Offerpad will charge you a "Convenience Fee" of 6% to 9.5%.
Some will also charge you (the seller of the home) for fee's that are typically paid by the buyers at closing!
If that's not enough, instant offer companies will also inspect the home and assess a hefty general home repair credit for themselves and charge you for it!
Overall, the total direct costs, ignoring credit repair credits, will run 7% to 10% to work with an instant offer company.


These large Instant Offer companies are going to charge YOU to sell your home to THEM!

If your goal is to maximize the profits from the sale of your home than dont work with an Instant Offer company!

We will "NET" you more profit from the sale of your home.
What is a Seller's Net Sheet?
A seller's net sheet line items all your costs, expenses, and remaining mortgage balance to reflect the NET PROCEEDS that you will earn from the sale of your home with a specific real estate company.
The sellers net sheet should include the following:
Real estate fee's

Seller costs

Property tax

State tax

Title fee's

Processing fee's

Repair costs

Remaining loan balance

NET PROCEEDS! (Most importantly)
Here is an example of a Seller's Net Sheet: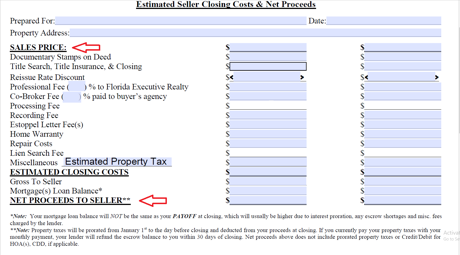 Would you rather have one buyer and one offer or multiple buyers competing through multiple offers?
Multiple Buyers + Multiple Offers = Competition = A Higher Sales Price


**Here is the link to the Collateral Analytics study that is cited above